Nature Safari
Nature Safari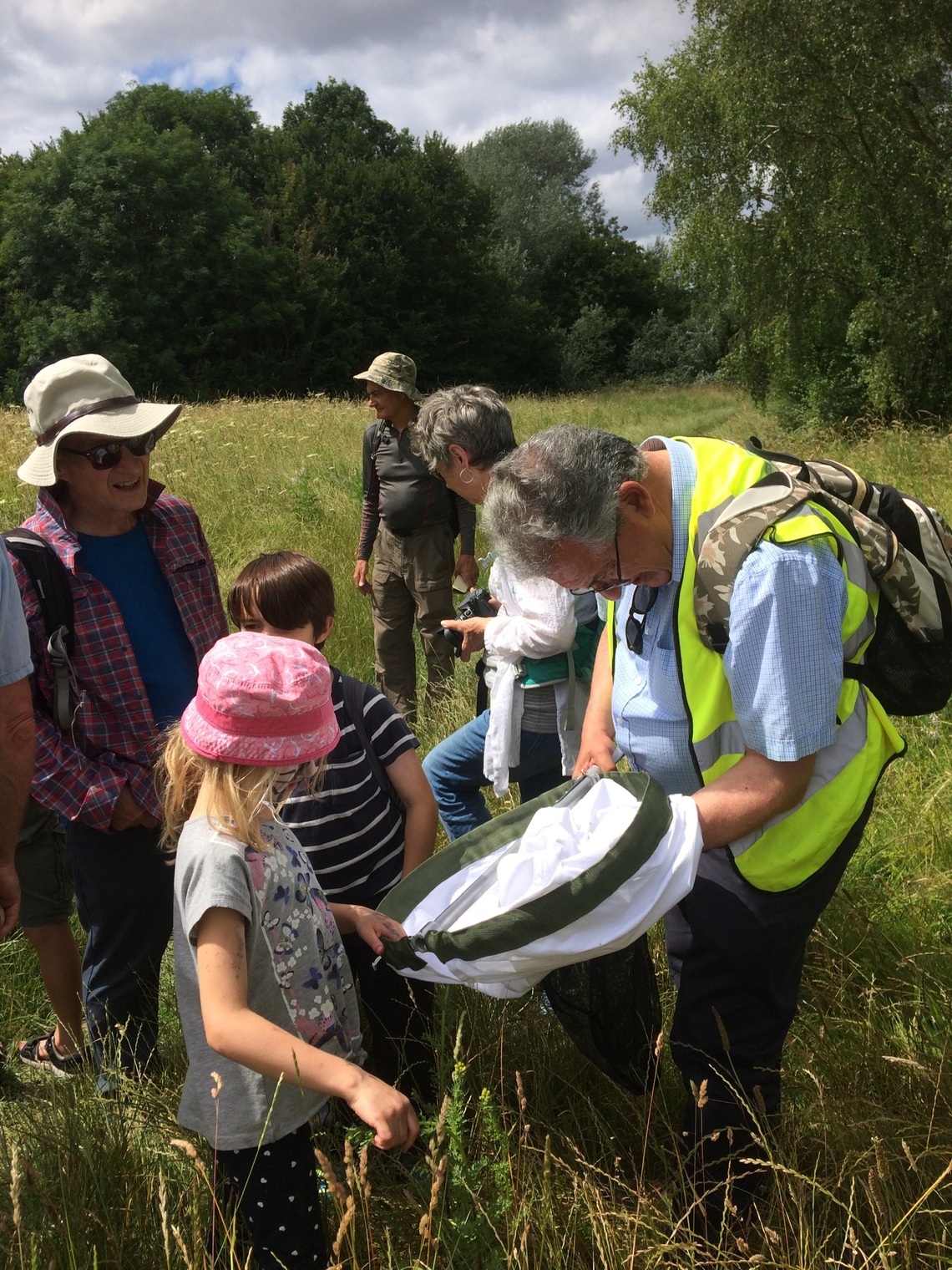 Bugs and Butterflies, June 2019, guide by Paul Cook
Ham land is a mix of habitats, mainly woodland, scrub, grassland and wetlands that contain a diversity of plants and animals, including numerous rare species that are hard to find in London. There are meadow wildflowers that attract bees and butterflies and the reserve is teeming with birdlife.
We are very fortunate to have several local naturalists that have studied Ham Lands for decades. Here is a presentation of them:
Geoff Hyde
Moved to Ham from the Wirral in 1964 and lives overlooking the Lands. He calls them his back garden. He has seen Ham Lands transformed since he moved here, from fly-tipping of builders rubbish to beautiful heaven for humans and wildlife.
He is not a botanist, but the Lands flora inspired Geoff to learn about and appreciate them, and to bring them to the attention of residents and wider. For over 40 years, he has given talks on the Lands to local societies and led wildflower and apples walks. This led to his becoming a judge, Trustee, and later Chairman, of London in Bloom and a committee member of Britain in Bloom. The Bloom experience has made him aware of the need to protect our natural green spaces especially in urban areas as 97% of Britain's original wildflower meadows have now gone. The Ham Lands need active protection and preservation.
And thanks to Geoff's very popular guided wildflower and apples walk, it inspired us to involve other local naturalists and offer more walks. Please carry on reading to learn more about them.
Paul Barlett
Have lived in the Thames Valley most of his life and have walked on the Ham Lands for 55years !!
It was his father started his interest in the Natural World. He became keen on botany during his work as a GP. That other outdoor interests (hiking, general Natural History, several kinds of Sport).
Nature became his refuge. To pursue these aims, he has traveled extensively both locally in Surrey, through most of Britain, and worldwide.
He is an active member of many Botanical and other Wildlife societies etc. both local and national.
Paul believes strongly that we must make every effort to preserve Ham Lands as a Nature Reserve, now that so much of wildlife are threatened elsewhere.
Diane Bridson
Have lived at Ham for over 50 years and always enjoy the Ham Lands as a tranquil, attractive wild area and valued the rich biodiversity it supports. Over the years she have seen many changes as the Lands have matured.
Diane is an active member of the Friends of Ham Lands and help with the Butterfly Group's conservation work and attend the bimonthly meetings.
She was until 2002 employed as a botanist at Kew Gardens specializing in the Coffee (or goosegrass) plant family in tropical Africa.
Unsurprising, her particular interest at Ham is the flora, and even though Diane is very knowledgeable she often claim she does not claim expertise in all plant groups.
Diane also regularly attend the Wednesday Health Walks at Ham as a leader, backmarker or walker and enjoy sharing our special area with others.
John Gard
John had the good fortune of growing up in Ham and ever since his childhood, he has had an interest in all things wild and has spent many years studying the ups and downs of the wildlife of ham lands. John's main interest is in the bird species.
Paul Cook
Paul is a local naturalist with a particular interest in recording the wildlife of Ham and Petersham. He grew up in East Kent where he became interested in butterflies and moths and flowering plants. This extended to an interest in fungi following a spell living in North Wales. In 1994 Paul moved to Ham with the proximity of Ham Lands being one of the main reasons for deciding to live in this part of London.
This spring we are pleased to invite you to serval guided walks.
Join us and open your eyes for the magical things in nature.
28 January and 25 February 10-12 am, What is in season?
This spring we are starting with regular monthly walks. Every month something new happens in nature. These walks are for people who like to learn more about Ham land. And we are very fortunate to have Paul Barlett sharing his long experience of observing Ham lands.
We would like to increase the interest and awareness of local people in the importance of the Lands in Nature Conservation, where such areas are few and far between and emphasize the need for their protection. We will focus attention on species at times when they are showing to their best, such as plants when they flower, and we are lucky enough to have a number of rare plants, with a good range of mammals, birds, butterflies, and other invertebrates. The Lands are free for all to enjoy !! "
We meet at Croftway/ Riverside drive in Ham, 9.45 am
9 February, 2-4 pm Mosses and Lichens - Postponed
Unfortunately, we have to postpone this walk due to weather warnings. We will post a new date ASAP
Winter is a good time to look for mosses and lichens and the wetter it is the better! For much of the year, they are hidden by vegetation or become dried up and are easily overlooked. Although much smaller than flowering plants they are fascinating when looked at through a magnifying glass or a hand lens. This walk will provide an introduction to the world of mosses and lichens and you will see some of the common species to be found on Ham Lands.
Paul Cook is our guide for this walk. We meet at Croftway/ Riverside drive in Ham 1.45 pm
29 March, 2-4 pm Cherry blossom
In Japan, the amazing cherry blossom is celebrated in remarkable fashion. Although our wild blossoms at Ham are not so spectacular they are truly delightful and a welcome herald to Spring. We plan this walk both to enjoy and celebrate our blossom trees and perhaps to learn just a little more about the different kinds of cherry and plum to be found at Ham. Along the way, we will look out for other early flowers (sharp-eyed children will be good at this). As it is a cooler time of year we plan this walk to be a little further and somewhat faster than our Flower and Apple walks. This linear walk will cover both North and South Ham Lands.
We meet at Ham house car park, at 1.45 pm. Diane Bridson will be our guide for this walk.