Fitpoint is the exercise facility on Ham Green, opposite Grey Court School. It was designed by Caloo, a British outdoor fitness and playground equipment consultancy.
This is a diagram showing the layout of Fitpoint on Ham Green: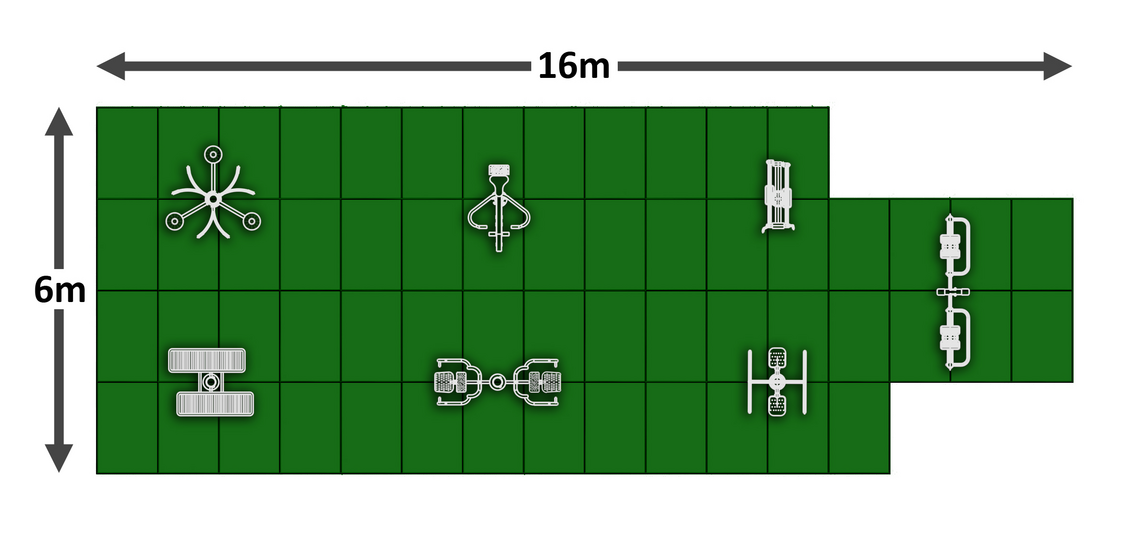 Fitpoint was opened formally on Saturday 27th March, 2010. We were fortunate to have a visiting celebrity, Hannah Beharry, who is Britain's number one female boxer in the 48kg category and twice European Union bronze medallist. Hannah is aiming to compete in the London 2012 Olympics - it will be the first time women's boxing is included in the Olympic programme. She brought boxing gloves with her and sparred with some lucky young hopefuls.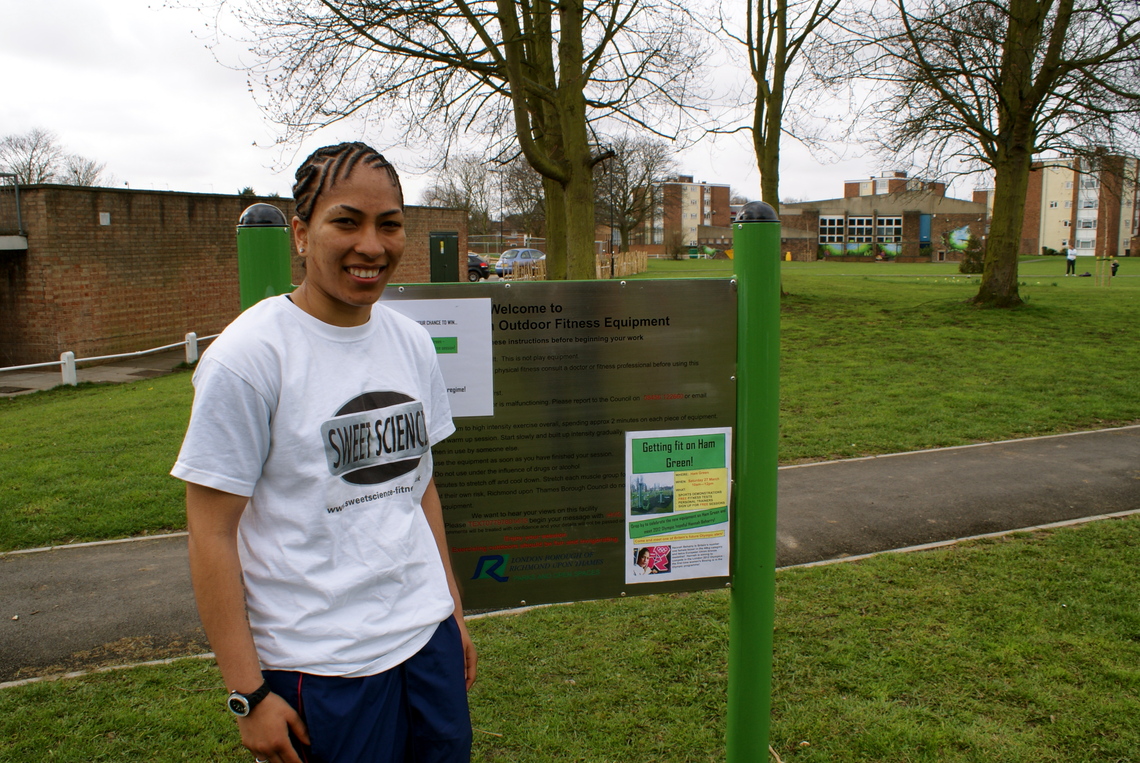 Local residents, young and old, tried out the equipment and expressed enthusiasm for the new facility. Richmond Councillors, Sue Jones, Brian Miller and Sir David Williams came along to show their appreciation of the long period of effort and negotiaton which lies behind the setting up of Fitpoint. Project Manager, Nick Gale made a speech and the ribbon was cut by two local children. Altogether, it was an enormously enjoyable morning and HUG thanks everybody involved in making it such a successful event.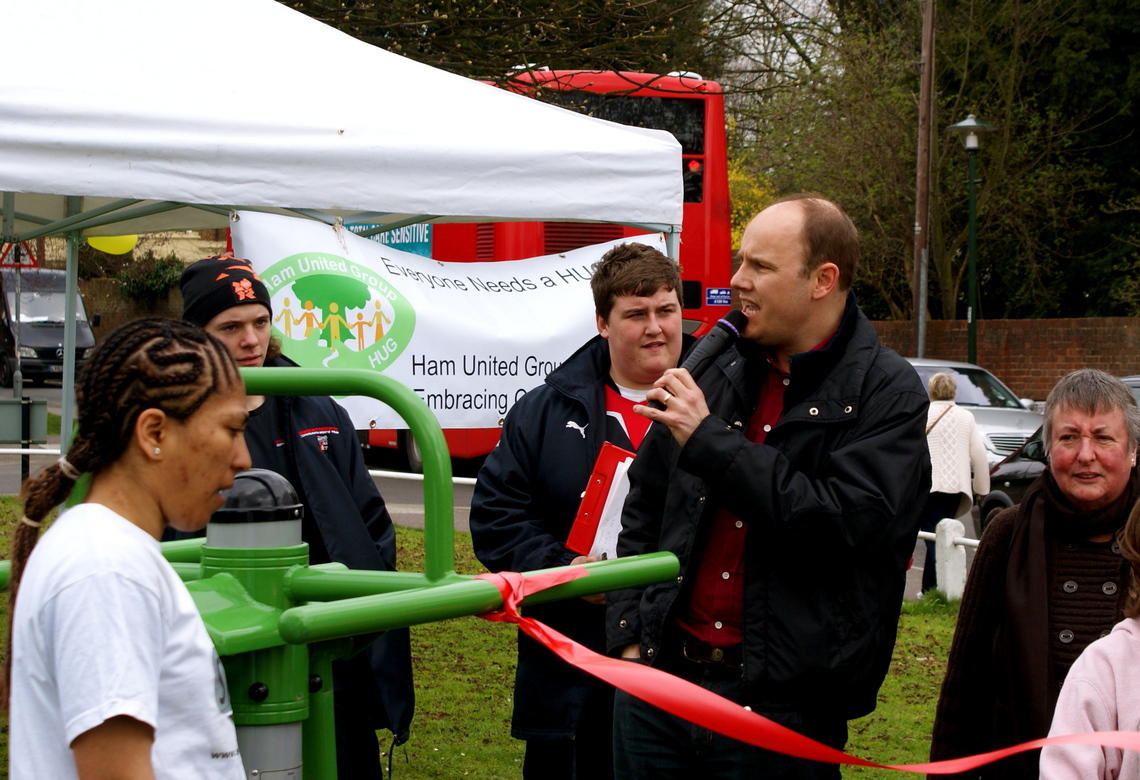 Project Manager Nick Gale describes the background to this important achievement:
Today, I am very proud to see the installation of individual pieces of fitness equipment on the edge of Ham Green (opposite Grey Court School). It has taken 2 years of hard work from its conception. Under the umbrella of HUG, we needed to convince prominent community members and other stakeholders of the advantage of offering a facility where young people could play and which would also offer adults alternatives to getting fit and healthy. During the last five years, as Chairman of the Ham and Petersham Police Liaison Group, I have listened to concerns from local people about issues surrounding anti-social behaviour. What I found many people forgot was that we grow up gradually and when children reach 12 years of age they are still very much children. I soon realised that we needed to find a way of bridging the gap between being a child and a young person.
I met Jean Loveland (HUG) and Ham Green Residents' Association three years ago and found that we had in common the desire to make a positive change in the centre of Ham. Together we made this a reality, with the support of Becky White, the then 'Ham Community Development Worker', Ben Skelton 'Ham Youth Leader', and Yvonne Kelleher, Service Development Officer at Richmond Council. To fund a project like this costs anything from 5K to 20K. To be sure it met our needs, Yvonne Kelleher offered us the Fitpoint as a trial, an all in one gym which we installed on the proposed site on Ham Green to see if it attracted the Young People's attention. The Fitpoint stayed for 6 months. It was important to us that the equipment was placed in the middle of Ham, because of the high concentration of young people surrounding this location.
In September 2009, we put forward a proposal for possible funding to the Ham Working Together Group. We were delighted to receive the green light for this project and soon put together a public consultation programme in November 2009. Within the constraints of budget and practicality, the young and not so young gave us their views and voted for their favourite and specific bits of equipment. As a result of this consultation, the project was hugely influenced by the community it was designed to serve.
Nick Gale is also Chairman of the Ham and Petersham Police Liaison Group, Member of HUG, Committee Member of Ham & Petersham Association. Our thanks to Nick and to Yvonne Kheller of Richmond Council, for the hard work they put into making this exciting project a great success.