Following the installation in 2007 of a bench outside Ham Library entrance, HUG identified the Library as central to the local community. After seeing that this single bench was well-used and talking to the local community, it was decided that regeneration of the neglected Ham Library Garden was needed.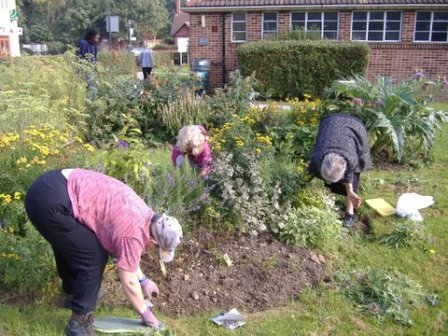 Under the leadership of Project Manager Jean Loveland money was raised via a grant from Awards for All - Big Lottery Fund and with the help of local volunteers, both young and old, Richmond Housing Partnership, Mears and Scion, the area was transformed into the award winning garden you now see around the Library.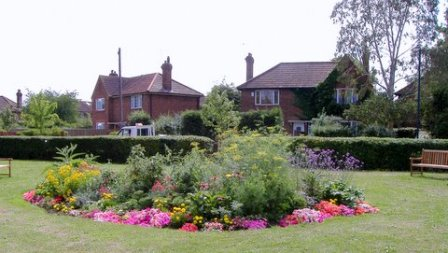 In 2009, the Library site was identified as having once formed part of the original Ham Farm Orchard. With this in mind, HUG decided to plant a mini orchard within the Library Garden selecting a variety of apple trees, three of which are native to Surrey.
A tree seat was kindly donated by members of the Ham and Petersham Association.
A stag beetle loggery has been installed to provide a suitable habitat for female stag beetles to lay eggs which hatch after three weeks into tiny worm-like larvae. These can stay deep underground, feeding on dead wood, for up to six years before they change into adult beetles.
Join Jean for a video tour of the garden!
Ham Library Garden is constantly developing and always interesting. It is host to a wide range of plants and insects and last Summer was widely enjoyed by families as they sampled the delights of our local ice cream parlour.
Our latest project, the planting of the 200 wild meadow flower plugs in the Library Garden, went very well. Several young families came along to help the seasoned gardeners and to learn how it's done. Our thanks to Ham Amenities Group who donated the wild flower plugs, which included the species Greater Knapweed, Lady's Bedstraw, Birdsfoot Trefoil, Meadow Crane's Bill and Harebell.