Generosity Practice - Dana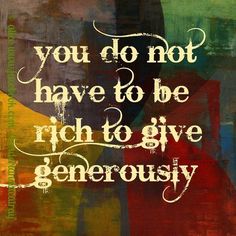 Most religions encourage some sort of generosity practice. It has been said that the first thing the Buddha taught people was generosity practice.
Rather than feeling unhappy about all the things we don't have, we can start being grateful for the things we have to share with other people.
We might think firstly about money or other material things, but other things can be just as valid.
It can be as simple as offering your seat on public transport to someone else.
Or taking the time to visit a lonely person.
Listening to a friend who is upset, just give them space to share what is bothering them, without interrupting or trying to fix them.
Offering your skills to somebody.
Volunteering in a group or organization can make a big difference for us too.
There are many benefits for example.....
Gain confidence by giving you the chance to try something new and build a real sense of achievement.

Make a difference. You can have a real and valuable positive effect on people, communities, and society in general. Meet different kinds of people and make new friends.

Be part of a community Feel part of something outside your friends and family.

Learn new skills. Learn new skills, gain experience, and sometimes even qualifications.

Take on a challenge. Through volunteering, you can challenge yourself to try something different, achieve personal goals, practice using your skills, and discover hidden talents.

Have fun! Most volunteers have a great time, regardless of why they do it.